History of Spine Practice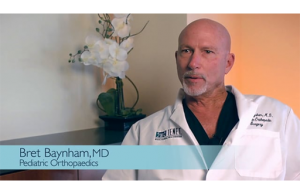 Dr Bret Baynham obtained his 5 year Orthopedic Surgery training at the Jacksonville, Florida campus of the University of Florida Shands Hospital. This residency program was heavily weighted toward General Orthopedic and Spinal trauma as the hospital was the region's Level 1 trauma center. Following residency Dr Baynham elected to pursue an additional 1 year of subspecialized training in Pediatric Orthopedic and Spinal Deformity . This training, referred to as a "Fellowship" was completed at the Shriners Hospitals for Crippled Children in Greenville, South Carolina. His primary mentors were Dr Benjamin Allen and Ronald Ferguson both of whom were well recognized for their expertise in Spinal Deformity and Spinal Injury.
In 1993 Dr Baynham began his private practice career. He spent one year in Macon, Georgia.
Though he enjoyed his experience there he was presented with an opportunity to join his brother's Orthopedic group in Palm Beach County and decided to be relocate. In 1994 he began his private practice in Palm Beach County and has remained there since.
In the first half of his career in Palm Beach County Dr Baynham emphasized Pediatric Spine Disorders and Spine Trauma . His involvement in the Spine trauma program at St MAry's Medical Center steadily increased . In approximately 2005 the role of the Spine trauma program was expanded to cover all Spine disorders presenting to St Mary's Medical center including traumatic, degenerative and infectious causes. The expanded role led to Dr Baynham acquiring the expertise necessary to treat the spectrum of both pediatric and adult spinal disorders .
At present Dr Baynham's practice is comprised of several key facets:
Founding member and actively practicing shareholder of the Palm Beach Orthopedic Institute.
One of 4 Spine surgeons comprising the Spine Surgery team at St Mary's Medical Center, Palm Beach Children's Hospital and Trauma Center.
Independently Contracted Spine Surgeon with the Spine and Orthopedic Specialists of South Florida.
Scope of Spine Practice
Adult and Pediatric Spine Deformity

Adult and Pediatric Spinal Fusion
Non Fusion – Pediatric- Scoliosis tethering, MAGEC rod growth guidance
Custom Spinal Bracing

Pediatric Developmental Spine Disorders
Adult Degenerative Spine Disorders
Adult and Pediatric Spine Injury
Adult and Teenage Interventional Pain Management for Spine:

Injection therapy- Trigger points, Facet Joint Blocks, Occipital Nerve Blocks
Radiofrequency / Thermal Ablation for Facet Mediated Pain Syndromes
Diagnostic Provocative Discography
Mesenchymal Stem Cell Injections
Intrathecal Baclofen Pump Insertion
Vertebroplasty/ Kyphoplasty
Hospital and Ambulatory Surgery Center Affiliations
St Mary's Medical Center
Jupiter Medical Center
Jupiter Outpatient Surgery Center
Central Palm Beach Surgery Center